THINK UNCONVENTIONAL, THINK WOOD WOOL CEILINGS
Wood Wool Solutions
A pleasant ambience is the result of not just what we hear, but what we feel.
Acoustics affect our well-being, mood and temper, and HERADESIGN® has studied the complexities for decades, developing acoustic solutions to reduce any disturbing background noise. Limited only by our imagination, this artistic product range enables architects and designers to create inspiring interiors with wood wool ceilings in almost every desired shape and colour.
Improving Acoustic Well-being
Using high-quality raw materials and innovative production technologies, HERADESIGN® wood wool ceilings offer a multitude of design possibilities and applications.
The 'warm' character of the wood wool structure combined with a wealth of knowledge, provide outstanding acoustic solutions that improve concentration, efficiency and performance.
Whether you choose a standard or special product, HERADESIGN® acoustic systems offer a quick, easy and clean solution for many different applications including education, sports, office, infrastructure, entertainment and recreational facilities.
The consistently stable surface texture of the wood wool panels is perfect for creative design and colouring, with an almost unlimited range of colours available, from systems such as RAL, NCS or StoColor. Silicate paints based on potassium silicate and an organic binding agent are used to cover the panels in white, pastel shades or solid colours.
Impressive effects can be achieved with twelve fashionable metallic colours, and we also offer a special colour quality standard for indoor swimming pools and semi-external applications.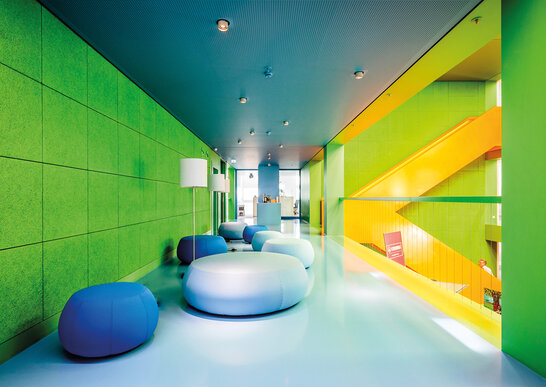 Discover Our Wood Wool Range